As part of the BBC's contribution to the Cultural Olympiad and London 2012 Festival, over the coming weeks a number of adaptations of Shakespeare's plays and documentaries celebrating the bard's works will air on BBC One, Two, Three and Four. This week's highlights include a new Simon Sharma documentary and a unique take on Julius Cesar.
Starting tonight on BBC Two, is a two part documentary series from Simon Schama, which looks at how the tumultuous historical period in which Shakespeare found himself served as inspiration and a impetus to explore and question the themes of royalty and nationality. In the first documentry Schama investigates the effect the Protestant Reformation of Henry the VIII had on England and Shakespeare's own family. The second episode (which airs on Friday the 29th of June)   explores Shakespeare's attitudes to Kingship and monarchy and how his own experience of serving the courts of Elizabeth I and James the I shaped his writing. Sharma questions if Shakespeare's first-hand knowledge of the Monarch's fragility, vanity and folly inspired him to write of the themes of power and ambition and how he used the characters in his plays to chip away at the veneer of royalty to revel the flawed men underneath.

Airing on Sunday the 24th of June on BBC Four is Julius Cesar. Made in conjunction with the Royal Shakespeare Company and arts production company Illuminations, this adaptation sees the action take place in post-Independence Africa. Featuring an all-black cast, the fast moving thriller explores the story of two men united by an action of political violence. This version filmed for television features a full Royal Shakespeare cast and was shot both on location and in the theatre.
Line of Duty is a new thriller exploring the world of Police corruption. When a counterterrorism raid goes tragically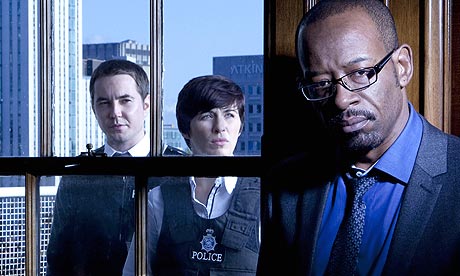 wrong, Detective Sergeant Steve Arnott refuses to participate in a cover-up. Ostracised by colleagues, he transfers to an anti-corruption unit, AC-12, and is tasked with investigating of the forces most respected officers, Detective Chief Inspector Tony Gates.  Telling the stories from both sides, this five part series looks at the events which have caused Tony to be investigated and follows Steve Arnott as he attempts to uncover the truth.Writer and produce of the series Jed Mercurio describes the series as …" a cat-and-mouse thriller. Every time Gates seems cornered, he finds a way to turn the tables. But all the time he's digging a bigger hole for himself, plunging irrevocably into a moral abyss. And each week the stakes get higher. Soon it isn't just careers on the line – it's lives…" The five part series starts airing on BBC Two Tuesday the 26th of June